Propaganda against Iran - for 33 years they have been telling us that Iran almost has a Nuke
Signs are emerging that the deep state, the zionists, and the neocons who haunt the halls of power in the United States are preparing to wage all-out war against the sovereign nation of Iran. An escalation of this magnitude in the already occupied and devastated Middle East would certainly push the world over the brink and into all out World War III with the U.S. pitted against China and Russia. An unwinnable conflict that would forever scar human history and the planet.
(updated march 1 2017)
11 Signs War with Iran is Imminent
Makia Freeman
, Contributor
Waking Times
War with Iran is on the cards as the administration of US President Donald Trump takes an overly aggressive stance against the Islamic Republic. Without doubt, the 2016 US presidential election left the nation deeply divided and polarized. Trump has been in office for around 3 weeks and there are still many people protesting against him. His brash style and EOs (Executive Orders) have some horrible unintended consequences, such as his 90-day immigration order (called a "Muslim ban" by some) resulting in a 5 year old getting handcuffed and separated from his parents. Amidst all of this engineered disorder, there is a serious danger lurking: Trump is taking the US on a sure course to war with Iran. Trump said on numerous occasions throughout his campaign that he would
not rule out the use of nuclear weapons
, and on Feb. 2nd 2017 he warned Tehran that "nothing is off the table."
Why Iran?
Before we get to the all the signs indicating that war with Iran is on the books, it is important to remember why the US and its masters are targeting Iran. Firstly, Iran has become the arch-enemy of the
Saudi-Israeli alliance
because it is the one country militarily and economically strong enough to challenge their dominance of the Middle Eastern region. There is no love lost between Israel and Iran, who have traded insults and threats for decades; meanwhile, Saudi Arabia and Iran are home to the 2 sides of the
Sunni-Shia conflict
within the Muslim world (Saudi Arabia – Sunni, Iran – Shia).
Trump is a Zionist down to his very bone marrow and DNA
, and evidently also afraid to take on the Saudis who were conspicuously omitted from
EO immigration ban of 7 nations
.
Secondly, Iran has been openly supportive of the fight against Zionism (by funding Hezbollah in Lebanon) and against the Sunni extremist group
ISIS (the pet Frankenstein of the US)
. The US now under Trump has accused Iran as being the biggest sponsor of terrorism in the world, but this is completely untrue. Iran has been a counterweight to radical Sunni Islam, extremism and violence.
Thirdly, Iran has forged a tight alliance with Russia and China in defiance of the Zionist-Anglo-American New World Order which seeks to impose a unipolar One World Government on the world, with the international bankers at the helm. Iran remains one the few countries in the world without a Rothschild-owned central bank. It refuses to bow to the will of the US or to allow the US to place its imperial military bases within its territory.
The following 11 signs below show that war with Iran is, unfortunately, shaping up to fast become a reality unless people quickly wake to to the game plan:
War with Iran Sign #1: Which Path to Persia? US follows the Zionist Think Tank Plan
The Brookings Institution is another PNAC-neocon-Zionist (and with links to Zbigniew Brzezinski) think tank which drives US foreign policy. In its 2009 analysis paper
Which Path to Persia? Options for a New American Strategy toward Iran
, it advocated the US make a deal with Iran, then renege on the deal (making it look like Iran was refusing something very reasonable), and then attack Iran with support from the international community:
" … any military operation against Iran will likely be very unpopular around the world and require the proper international context — both to ensure the logistical support the operation would require and to minimize the blowback from it. The best way to minimize international opprobrium and maximize support (however, grudging or covert) is to strike only when there is a widespread conviction that the Iranians were given but then rejected a superb offer — one so good that only a regime determined to acquire nuclear weapons and acquire them for the wrong reasons would turn it down. Under those circumstances, the United States (or Israel) could portray its operations as taken in sorrow, not anger, and at least some in the international community would conclude that the Iranians "brought it on themselves" by refusing a very good deal." – pg. 39
(Hat tip to Tony Cartalucci for alerting people to this years ago.)
War with Iran Sign #2: Iran on the "Muslim Ban" List but Saudi Arabia Not
I have talked about the so-called "Muslim ban" in an earlier article where I made the point that technically it's not a Muslim ban. However, here I want to emphasize that if the real point of the travel ban were to stop terrorists, then why on Earth is Saudi Arabia not on the list? Trump referenced 9/11 when talking about this travel ban, and even according to the official 9/11 narrative (a fairy tale no doubt, but this is what some people believe), Saudi Arabia was the source of 15 of the 19 alleged hijackers! However, the US and Saudi Arabia have many deals involving weapons, oil, petrodollars, US military bases, funding and training of ISIS and more, so I guess it's a little too truthful and inconvenient to put them on the list. Ditto for Israel. Saudi Arabia and Israel export the most terrorism, but it's Iran that makes it on the list …
War with Iran Sign #3: Iran Dumps the US Dollar
The US economic system is propped up by the petrodollar, i.e. the willingness of foreign nations to transact oil in US dollars, which means they have to hold, use and exchange US dollars, which keeps up a global demand for them. The US has benefited greatly from this system. When many transactions are in US dollars, and the US controls how many dollars are in circulation, (and therefore what each dollar is worth), they can actually control what they owe or are owed. Iran has formally announced it is ditching the US dollar for oil transactions as of March 21st, 2017. This is massive news! Many have reported that the real reason for the invasion of several Middle Eastern countries over the last 2-3 decades was due to their desire to abandon the petrodollar (e.g. with
Libya's gold
in 2011).
War with Iran Sign #4: National Security Advisor Flynn Puts Iran "On Notice" for Missile Test (Lie #1)
Trumps's National Security Advisor Michael Flynn tried to argue that a recent ballistic missile test conducted by Iran violated the P5+1 and United Nations backed nuclear deal. Flynn tried to claim that it broke UN Resolution 2231 which is known as JCPOA (
Joint Comprehensive Plan of Action
). It states:
"Iran is called upon not to undertake any activity related to ballistic missiles designed to be capable of delivering nuclear weapons, including launches using such ballistic missile technology, until the date eight years after the JCPOA Adoption Day or until the date on which the IAEA submits a report confirming the Broader Conclusion, whichever is earlier."
Tehran confirmed the launch but denied it had broken any agreement, because the ballistic missile involved was conventional and not nuclear, and so not subject to the Security Council resolution. "The missile issue is not part of the nuclear deal," said Iranian Foreign Minister
Javad Zarif
. Iran's missiles are "not designed for the capability of carrying a nuclear warhead" but rather are "designed to carry a normal warhead in the field of legitimate defense," he said.
Wars are usually started with deception and lies. This assertion by Flynn – who produced no evidence to back up that Iran was using a nuclear missile not a conventional one – is the first lie on the way to what the globalists want: war with Iran.
War with Iran Sign #5: US Lies About Destroyed Saudi Frigate (Lie #2)
The second lie came with the White House attributing a missile attack on a Saudi ship by Yemeni Houthi Rebels. Press Secretary Sean Spicer falsely accused Iran of attacking a US naval vessel. There's just a few (gigantic) problems with this accusation, which is actually a bald-faced lie. Firstly, the vessel was actually a Saudi ship, not a US ship. Secondly, the attackers were Houthi rebels from Yemen, not Iranians. Thirdly, the White House produced no evidence that Iran was assisting the Houthi rebels. Saying that Iran attacked a US ship when the Houthi attacked a Saudi ship is a complete and utter lie.
War with Iran Sign #6: Iran is World's "Biggest State Sponsor of Terrorism" (Lie #3)
New Secretary of Defense General 'Mad Dog' Mattis come out with lie #3 on the way to war with Iran, by calling the Islamic Republic the "biggest state sponsor of terrorism". Unfortunately for him Saudi Arabia and Israel (as mentioned earlier) are already vying for that title, behind the USA itself. Just check out how many countries the CIA has destabilized through subversions, coups and assassinations.
War with Iran Sign #7: Iran Hit with New Sanctions
Trump hit Iran with
new sanctions
on Feb. 3rd, 2017. However, although Trump and some of his cabinet are vehemently anti-Iran, the sanctions were already in place before he came to office:
"The White House said on Friday that the Iran sanctions were "in the pipeline" before Trump was sworn in as president on January 20, but were activated in light of recent events. "These kinds of sanctions don't happen quickly but I think the timing of them was clearly in reaction to what we've seen over the last couple days," White House spokesman Sean Spicer told reporters. We knew we had these options available to us because they had been worked through the process … They were in the pipeline.""
War with Iran Sign #8: New US Ambassador to UN Haley Takes Strong Anti-Russian Stance
Trump continues to defend Putin and Russia, although his cabinet and staff apparently haven't gotten the message. Russia and Iran are, of course, in a binding military alliance along with China, so to attack any of them is to attack all of them. US Ambassador to the UN Nikki Haley used her opening speech at the UN to trot out the same old lies, read from the anti-Russia playbook and condemn Russia for its supposed "annexation" of Crimea – you know, the one where over 96% of Crimeans voted voluntarily to rejoin Russia. She even tweeted her a portion speech (above) just to make sure her masters saw she was dutifully toeing the line.
The disputed South China Sea area.
War with Iran Sign #9: New Secretary of State Tillerson: US Should Prevent China from Using South China Sea
The Trump Administration's warmongering is not limited to Iran and Russia. China has also been on the receiving end of some threats. Secretary of State and oil man Rex Tillerson stated that China should not be given access to the artificially created islands in the South China Sea (despite the fact they claim ownership over that area, and the US clearly has none). This is what
Tillerson
said:
"The island building in the South China sea itself, in many respects, in my view, building islands and then putting military assets on those islands, is akin to Russia's taking of Crimea … we're going to have to send China a clear signal that first, the island building stops, and second, your access to those island is also not going to be allowed."
War with Iran Sign #10: Trump Strategist Steve Bannon: There Will be a War with China in the Next 10 Years
Many consider chief strategist Steve Bannon the brains behind Trump. In the quotes below, he essentially
calls Trump a tool
and prophesies that there will be a war with China in the next 5-10 years:
"Trump is a blunt instrument for us … I don't know whether he really gets it or not." – Bannon to Vanity Fair
Here is Bannon on
Breitbart Radio
:
Bannon: "There are now some 89 million members of the Chinese Communist Party … [who still believe that] political power grows out of the barrel of a gun. Once you understand that, you understand why they are trying to build these islands in the South China Sea, why they are rattling their arms and aiming at Taiwan."
Radio host: "We're going to war in the South China in 5-10 years, aren't we? …"
Bannon: "Absolutely, and that's one of the reasons why I have to give a tip of the hat to this (Obama) Administration for sending a carrier to the South China Sea …" – Bannon on Breitbart Radio
Bannon was referring to Obama's
Pivot to Asia
which began the encircling of China.
War with Iran Sign #11: Unified Trident – US War Games Off Iranian Coast
To top it all off, 4 countries (US, UK, France and Australia) conducted a joint naval operation named Unified Trident just off the Iranian Coast. A
British Navy commander
tried to claim the timing and location of this was just coincidental:
"It's not a show of force to the Iranians at all," Wallace said. "The reason we are doing this exercise, and I'll stress this over and over again, is because it's easier to do here than it would be anywhere else. It's a key opportunity to bring ships together, to exercise together and to operate together. The fact that it's in the [Persian] Gulf is coincidental, really."
The signs are ominous that the long-held agenda of initiating war with Iran is speeding up under Trump. With enough public awareness of the agenda, and the lies used to promote it, it can be stopped. Otherwise, similar to Syria, it may be used to trigger World War 3, since any conflict with Iran will necessarily bring the US, Russia and China into direct military confrontation.
Isaac Davis
, Staff Writer
Waking Times
Regardless of how many rationally-minded and sensible people speak out in favor of peace, the warfare state sets its own objectives, yet these voices must be heard.
Former president of Iran, Mahmoud Ahmadinejad, a political figure who has been endlessly demonized in the American corporate press in recent years, has penned an open letter to President Donald J. Trump, outlining the case for cooperation over mutually assured destruction, calling on Trump to recognize the hidden hands at work behind the curtain in American politics.
Ahmadinejad's concerns are grounded in common sense and respect for history, and his attempt to reach President Trump is done so after years of failing to get through to previous U.S. Presidents. In the run-up to all-out war, this letter is a must read.
Read Mahmoud Ahmadinejad's full letter to President Trump for yourself, as re-printed here:
To: His Excellency, Mr. Donald John Trump
The president of the United States of America
Greetings,
Your Excellency has been elected, in the recent US election, as the president of the country. It can be inferred from the political and media atmosphere in the US that the result of the election has been despite the status quo, and beyond the will and prediction of the governing body and the main system behind the scene of the US political stage. The stances of the rival party and some of your party members and most western leaders suggest the same notion. Irrespective of whether or not that is true, the recent election revealed part of the actual and accumulated demands of the US people. Welcoming this and hoping it will have an effect, I hereby share some points with you, whereas I'd tried in the past to convey some important matters to the two preceding presidents, via letters.
A. Introduction
1- This letter is by no means political, in the common sense of the world; nonetheless, today it is from a human to another human. The letter is from a humane standpoint, rooted in interest toward and compassion for the American nation and other nations, and I expect your Excellency to read it from the same perspective, adopting a humane approach.
2- I speak as the son of the great, civilizing and culture-making nation of Iran. A nation with a prominent role in the global culture and civilization, by having presented thousands of scientists and artists, as well as innumerous scientific and cultural achievements throughout its honorable history. A nation that, back 2500 years ago, by its great historical character, Cyrus, issued the order for freedom of thought and equality of human beings, as well as for annulling slavery, racial discrimination and exploitation; principles it has ever since adhered to. A nation that managed an important part of the world for centuries, in brotherhood, justice and respect. A nation that, in the current era, introduced the unique figure, Late Imam Khomeini, to the human society. A leader who depicted the love and kindness of divine prophets to all human beings, and was the flag-bearer of freedom, justice and brotherhood for all nations. A great reformer who, from a divine-humane perspective, was the helper for all the oppressed and was the harbinger of peace, friendship and justice, heralding fundamental reforms to benefit all nations.
3- I have met many political, cultural and social figures, as well as people from all walks of life across the five continents of the world, talking to them about international issues. This letter can be interpreted as the standpoints of other nations and many contemporary experts and figures.
4- Your Excellency and I are, like other human beings, servants and creatures of The Only God, and have been created for an eternal life. God has not created us for enmity, hegemony and aggressiveness. People are all equal and in terms of possessing land, wealth, God-given opportunities and human rights, they're alike. The true essence of human blossoms through monotheism, loving others and making endeavors toward the well-being and prosperity of others.
A human being, on his path to serve others, achieves proximity to God and eventually wins eternal salvation. In other words, a true human being and the actual winner of this world's competitions and contests is one who spends his life in the service of other human beings' well-being and welfare, and for doing away with oppression and establishing justice and friendship.
5- Enjoying the vote and trust of people and representing them is on the one hand a source of honor and on the other, causing an extremely heavy responsibility. If you have so far lived for yourself, basically you will need to henceforth live for the US people and the human society.
6- Having been elected the US president is a historic opportunity primarily for the elected person and secondly for the electorates and other nations. Although four years is a long period, but it ends quickly. The opportunity needs to be valued, and all its moments need to be used in the best way.
7- Those elected by nations and the rulers should never consider themselves being superior to people, or being their masters and dominant over people's affairs. The rulers' capacity is but to be humble toward the people, to serve them, and to follow up their demands. All prophets, among them Prophet Jesus (Peace Be Upon him), were bearers of the same message and were in service of the people. God, in the noble Quran, addresses Prophet Mohammad (PBUH) and says "You are only a reminder. You are not over them a controller". The prophets came not to rule people and establish empires, but to unite human beings and instill sympathy, and to spread monotheism, freedom, justice and love across the planet and to endow everyone with them.
8- The laws ruling human societies have been codified by God. Those laws are unalterable. The people who, in their hearts, bear tenderness and love for human beings and strive on the path of serving people, have in fact filled their hearts with love for God and a beautiful fate awaits them, hence being honorable both in this world and in the hereafter.
9- Favoring the interests and satisfaction of the public and nations over the interest and satisfaction of an insatiable minority of tyrants of wealth and power, is a reasonable issue, bringing reputation to the rulers.
B. Some points on the status of the USA and Your Excellency's stances during the election campaign:
Mr. President, Your Excellency is well informed of the US history and the behavior of its rulers toward other nations, particularly over the past half-century. Levels of dissatisfaction from US rulers are so that a free election at any part of the world will result in the victory of the US government's opposition. You are also supposed to know the US internal situation and the oppression exerted over the nation, better than any other person. Your Excellency has explicitly proscribed the US policies and performances, as well as its governance structure and media system that shapes the public opinion. Your Excellency has announced that you want to change the status-quo to people's benefit. Requisite for realizing those vows is paying attention to some important issues, of which I point out a few:
1- Your Excellency has truthfully described the US political system and electoral structure as corrupt and anti-public. The US electoral system has for decades enslaved people's votes to benefit a certain minority; i.e. a group that seemingly rules in the form of two parties, but in fact represents a minority, i.e. the tyrants of global wealth and power. Changing the US electoral system and setting people's will and interests free from that imposed slavery, will be considered a great job and a fundamental reform. It is clear that only with an integrated plan and relying on people's true will, the status quo can be reformed. I believe that the position of the president in the US entails ample power and potential for taking the initiative in that great job. I hope you will be the first president of the United States of America who establishes novel changes to achieve people's actual will.
2- Unfortunately, consecutive US administrations have assumed arrogance toward others, seeking progress of the state in holding others back, pursuing possession and welfare of US people in others' poverty, questing its honor and grandeur in humiliating others, and searching US security in insecurity for others.
If all the world governments view the international arena from the same angle, and act accordingly, what will the result be? It's my belief that the US people cannot support such policies and performances, and cannot pursue humiliation, poverty and insecurity for others, and cannot seize others' wealth. Whenever the US nation has, beyond the blurred atmosphere of media, become cognizant of such policies and behaviors, it has slammed it and disavowed the perpetrators. If we pursuing fundamental and sustainable reforms, we need to respect all nations and cultures, as well as their will and interests. We need to share the happiness of nations, as well as their sorrow. We need to seek equality and brotherhood among nations, and respect the nations' rights, as well as to avoid arrogance and efforts toward domineering others.
3- Your Excellency has announced that the US treasury has produced around $23 Trillion of illegal notes (paper assets). This means that without labor, effort or providing goods and services and by having abused the internationality of dollar, the funds has been taken from world nations' pocket. Regrettably, the big and modern robbery has been committed in the name of the US people, but in fact to the benefit of a certain group. This signifies that the US administration and governance owe other nations the exact amount. I don't think the US people are satisfied with this greatest robbery in history. It is expected that the looted wealth of nations be returned to them, or at least the inhumane and destructive trend be halted. This will be an instance of fundamental and structural reform.
4- Mr. President, Your Excellency has pinpointed the existence of 70 million poor and millions of jobless people and said that resolving US domestic problems is on top of your agenda. You have announced that the US defense power has shrunk. Your Excellency has noted the $6 Trillion costs of US war in the Middle East. You know that the official US annual military expenditure is $700 Billion. Experts believe that defending US geographical borders and preserving its domestic security vis-à-vis modern threats should not cost more than $200 Billion annually. The basic question now is who has given the US government the mission to establish security worldwide?
What outcome has meddling in other's affairs and military deployments to other regions and imposing thousands of US military, security and intelligence bases across the globe had, except for insecurity, war, division, killing and displacement of nations? Have the measures brought about anything beyond hatred and animosity toward US leaders, notoriety for the US people and imposition of military expenditures? If all governments want to show behavior similar to the US administration, which visible horizon of peace and security will lie ahead of the human society? Isn't it better to stop warmongering and not to interfere militarily in other regions of the world, in order to create an atmosphere of international understanding and to end the arms race, war and killing of people? By doing so, a considerable wealth of resources will be saved to develop US people's welfare, and to shed poverty and unemployment. Isn't that the best way to change the world nations' attitude toward the US governing body?
Furthermore, you know that relying on arms and threatening others is translated into entering an endless and highly costly arms race, which has no fate but war, poverty and annihilation of nations. Nowadays it is revealed to the general public that the claim to safeguard security and establish peace in other territories by relying on weapons and warmongering is a false one, where colonial goals are hidden under humanistic slogans. How can the race in production and export of arms create peace and security? War instigates war, and peace is never established by war. Killing only cumulates hatred. Sustainable peace and security will only be established by changing attitudes, beliefs and behavior. Sustainable security needs to be sought in kindness, respecting other's rights and administering justice.
The best defensive power is people's power and satisfaction, and this will not be achieved unless by administering justice and respecting human beings. If Your Excellency takes the initiative to remove the deadly arms race and stop the military presence and intervention in other regions, the annual killing and displacement of millions of human beings will be prevented. If so, hundreds of billions of dollars of global military and security costs will be reduced, to be spent in the health, education and welfare of nations, as well as in reducing the social gap and other problems, and to uproot insecurity. Hasn't the time come for all of us to believe that the human society needs human thought, justice and brotherhood more than arms and military power? Arrogance is a devilish deed and the root cause of all problems in the human society. Hasn't the time come to change arms to pens, and to replace arrogance, discrimination and hatred with love, equality and brotherhood?
5- The United Nations is the most prominent achievement of historical experiences, and is the shared human heritage and the result of man's hope for building a better world. The formation of the UN is a very sublime idea for the fair participation of all nations in global governance and for establishing sustainable peace and security, as well as yielding welfare and excellence for all. The UN was founded for collective wisdom to replace dictatorship and arrogance. The free participation of nations in global governance is not a threat, but a valuable opportunity that all genuine reformists will welcome. Unfortunately, the dominance of consecutive US administrations over the global body has obstructed its right performance. Time has come for the center for manifestation of collective- and- free will of nations to be set free from the destructive dominance. Of course, the job requires history-making men and arrival at a major decision.
6- Those ill-wishing for the US people are set to withstand the implementation of US people's will to implement fundamental reforms in structures, policies and behavior of the US ruling system. They seek deception, in order to divert the public movement of the US nation toward genuine reform and realization of their rights. Unfortunately, some are pursuing the spread of discriminatory, racist and profit-driven attitudes in human relations, as well as expansion of false boundaries and causing rifts among the people. The Devils are, under false flags of religion, race, skin color and even geography, trying to widen the gap among people, and spread hatred, to create opportunities for themselves. The human society is, in an evolutionary trend, moving toward the one society, and on its way, is pursuing removal of the various borders and gaps among people and nations. Human beings originate from the same root and nature, possessing a divine soul, hence respectable. There's no enmity and hostility among nations of any religion, thought and race. Resolving the problems of the human society and building a better world would need sympathy, condolence and helping each and every of the world people.
As great Saadi, the renowned Iranian poet put it:
The sons of Adam are limbs of each other,
Having been created of one essence.
When the calamity of time affects one limb
The other limbs cannot remain at rest.
We should all try to make a better future and to expand friendship, justice and freedom. All people need to feel responsible and enjoy the opportunity to participate in and lead that sacred deed. I'm positive no wise human being will condemn an effort to eradicate racial discrimination and discrimination in the US.
7- Terrorism is an anti-human tool in the hands of global powers in order to cause insecurity and rifts, as well as to impose their will and policies on nations and governments. I regret to remind you that most of the known terrorist groups across the contemporary world have either been or are formed and reinforced by US security services, or have, halfway through, started to serve their goals. Fundamental fight against terrorism would mean cutting the terrorists' financial resources and the intelligence, financial and arms support of US security bodies, as well as those of US allied governments. The public expectation from Your Excellency is to make the public, and particularly the nations oppressed by terrorism, happy and thankful by taking such a measure. I long for a day when the idea of arrogance, which is the root cause of terrorism and a great number of human society's problems is transformed into humane thought.
8- The developments and the current existence of America today is the result of immigration of a variety of nations to that land. The presence and constructive effort of the elite and scientists of different nations, including the million-plus population of my Iranian compatriots has had a major role in the development of the US. It is necessary that the spirit of the policies ruling the US, value respect toward the diversity of nations and races. In other words, the contemporary US belongs to all nations, including the natives of the land. No one may consider themselves the owner, and view others as guests or immigrants. Care needs to be taken toward the same persons responsible for the current problems in the US not to infiltrate and divert the nation. Mr. President, It's will not be an instance of over-demanding that Your Excellency invest into fighting the root cause of corruption and support the oppressed people, who are typically in the service of building the US.
C. And the final point:
1- Enjoying a country developed, powerful, rich and effective in international relations, is what any nation would long for, but this wouldn't mean forming empires and interfering in others' affairs, or boasting and exercising hegemony toward other nations. I believe that the US land enjoys enough of natural resources and God-given wealth for making a prosperous, developed and sustainable life, so that no encroachment toward others' resources will be needed. The US nation deserves enjoying all facilities and opportunities and having a sublime and stable life, via a constructive, fair and equal interaction with other nations. You can rest assured that efforts to spread human behavior, to accept and respect the rights of other nations and to try to establish justice have always been admirable. Creating opportunities for constructive job for American youth, resolving people's severe problems, making structural reforms and building America within the geography of the United States are welcome by the community of nations and ahead of them, the Iranian nation.
2- Women depict God's beauty and are God's most beautiful and valuable gift. Respecting women and dignifying them, is a sign of magnanimity. The great men of history have paid the highest level of respect to women and recognized their God-given capabilities. Women's role in the life and perfection of human society is special and in the best and highest form. Women's management in domains of science, society, culture, etc. has been among the most precise and excellent.
We all understand the deep concept of unrivaled motherly love, the unique kindness of a sister and the irreplaceable position of a wife. I hope women in all societies, including that of the US, while at utmost persistent esteem and respect, effectively and constructively participate and lead in building the ideal society. It's needless to remind of the glorious history of the great Iranian nation, which has seen numerous ups and downs. No trace is left on earth of the enemies and the malice and the vengeful ill-wishers toward the Iranian nation. However, the Iranian nation is alive and progressive, having successfully gone through and passed all minor and major historic events, as it will in the future. The Iranian nation possesses a bright future. I suffice to a point: please note that the image US media provide of the Iranian nation has never been and is not indicative of the facts regarding the great and honorable Iranian nation. Mr. President, With the good people of US, you currently have a landmark opportunity to kick off fundamental reforms and strive on the path, to be the initiator of huge change and leave a good reputation behind. I hope the lengthy letter, which was proportionate to the nature of a fundamental and constructive talk, hasn't tired you.
I pray to God The Merciful for all nations and also for the people of US glory, prosperity, peace, freedom, justice and welfare and for Your Excellency, success in performing the heavy duty of reforming the structure of the US system and in responding to people's demand.
And peace on the righteous servants of God
Mahmoud Ahmadinejad
In service of the Iranian nation
http://www.hangthebankers.com/propaganda-against-iran-for-33-years-they-have-been-telling-us-that-iran-almost-has-a-nuke/
Breathless predictions that the Islamic Republic will soon be at the brink of nuclear capability, or – worse – acquire an actual nuclear bomb, are not new.
For more than quarter of a century Western officials have claimed repeatedly that Iran is close to joining the nuclear club. Such a result is always declared "unacceptable" and a possible reason for military action, with "all options on the table" to prevent upsetting the Mideast strategic balance dominated by the US and Israel.
And yet, those predictions have time and again come and gone. This chronicle of past predictions lends historical perspective to today's rhetoric about Iran.
1. Earliest warnings: 1979-84
Fear of an Iranian nuclear weapon predates Iran's 1979 Islamic revolution, when the pro-West Shah Mohammad Reza Pahlavi was deep in negotiations with the US, France and West Germany, on a nuclear-energy spending spree that was to yield 20 reactors.
Late 1970s: US receives intelligence that the Shah had "set up a clandestine nuclear weapons development program."
1979: Shah ousted in the Iranian revolution, ushering in the Islamic Republic. After the overthrow of the Shah, the US stopped supplying highly enriched uranium (HEU) to Iran. The revolutionary government guided by Ayatollah Ruhollah Khomeini condemned nuclear weapons and energy, and for a time stopped all projects.
1984: Soon after West German engineers visit the unfinished Bushehr nuclear reactor, Jane's Defence Weekly quotes West German intelligence sources saying that Iran's production of a bomb "is entering its final stages." US Senator Alan Cranston claims Iran is seven years away from making a weapon.
2. Israel paints Iran as Enemy No. 1: 1992
Though Israel had secretly done business with the Islamic Republic after the 1979 revolution, seeking to cultivate a Persian wedge against its local Arab enemies, the early 1990s saw a concerted effort by Tel Aviv to portray Iran as a new and existential threat.
1992: Israeli parliamentarian Benjamin Netanyahu tells his colleagues that Iran is 3 to 5 years from being able to produce a nuclear weapon – and that the threat had to be "uprooted by an international front headed by the US."
1992: Israeli Foreign Minister Shimon Peres tells French TV that Iran was set to have nuclear warheads by
1992: Joseph Alpher, a former official of Israel's Mossad spy agency, says "Iran has to be identified as Enemy No. 1." Iran's nascent nuclear program, he told The New York Times, "really gives Israel the jitters."
3. US joins the warnings: 1992-97
The same alarm bells were already ringing in Washington, where in early 1992 a task force of the House Republican Research Committee claimed that there was a "98 percent certainty that Iran already had all (or virtually all) of the components required for two or three operational nuclear weapons."
Similar predictions received airtime, including one from then-CIA chief Robert Gates that Iran's nuclear program could be a "serious problem" in five years or less. Still, the bureaucracy took some time to catch up with the Iran threat rhetoric.
1992: Leaked copy of the Pentagon's "Defense Strategy for the 1990s" makes little reference to Iran, despite laying out seven scenarios for potential future conflict that stretch from Iraq to North Korea.
1995: The New York Times conveys the fears of senior US and Israeli officials that "Iran is much closer to producing nuclear weapons than previously thought" – about five years away – and that Iran's nuclear bomb is "at the top of the list" of dangers in the coming decade. The report speaks of an "acceleration of the Iranian nuclear program," claims that Iran "began an intensive campaign to develop and acquire nuclear weapons" in 1987, and says Iran was "believed" to have recruited scientists from the former Soviet Union and Pakistan to advise them.
1997: The Christian Science Monitor reports that US pressure on Iran's nuclear suppliers had "forced Iran to adjust its suspected timetable for a bomb. Experts now say Iran is unlikely to acquire nuclear weapons for eight or 10 years."
4. Rhetoric escalates against 'axis of evil': 1998-2002
But Iran was putting the pieces of its strategic puzzle together. A US spy satellite detected the launch of an Iranian medium-range missile, sparking speculation about the danger posed to Israel.
1999. "Iran is the greatest threat and greatest problem in the Middle East," Peres warned, "because it seeks the nuclear option while holding a highly dangerous stance of extreme religious militanCY."
1998: The New York Times said that Israel was less safe as a result of the launch even though Israel alone in the Middle East possessed both nuclear weapons and the long-range missiles to drop them anywhere. "The major reaction to this is going to be from Israel, and we have to worry what action the Israelis will take," the Times quoted a former intelligence official as saying. An unidentified expert said: "This test shows Iran is bent on acquiring nuclear weapons, because no one builds an 800-mile missile to deliver conventional warheads."
1998: The same week, former Defense Secretary Donald Rumsfeld reports to Congress that Iran could build an intercontinental ballistic missile – one that could hit the US – within five years. The CIA gave a timeframe of 12 years.
2002: CIA warns that the danger from nuclear-tipped missiles, especially from Iran and North Korea, is higher than during the cold war. Robert Walpole, then a top CIA officer for strategic and nuclear programs, tells a Senate panel that Iran's missile capability had grown more quickly than expected in the previous two years – putting it on par with North Korea. The threat "will continue to grow as the capabilities of potential adversaries mature," he says.
2002: President George W. Bush labels Iran as part of the "axis of evil," along with Iraq and North Korea.
5. Revelations from inside Iran: 2002-05
In August 2002, the Iranian opposition group Mojahedin-e Khalq (MEK, a.k.a. MKO) announces that Iran is building an underground uranium enrichment facility at Natanz, and a heavy water reactor at Arak. It is widely believed that the evidence had been passed to the MEK by Israeli intelligence.
Enrichment and reactors are not forbidden to Iran as a signatory of the Nuclear Non-Proliferation Treaty (NPT), but the failure to disclose the work prompts an IAEA investigation and much closer scrutiny. Iran insists its efforts are peaceful, but is found in breach of its IAEA safeguards agreement, and accused by the IAEA of a "pattern of concealment."
2004: Then-Secretary of State Colin Powell tells reporters that Iran had been working on technology to fit a nuclear warhead onto a missile. "We are talking about information that says they not only have [the] missiles but information that suggests they are working hard about how to put the two together," he said.
2005: US presents 1,000 pages of designs and other documentation allegedly retrieved from a computer laptop in Iran the previous year, which are said to detail high-explosives testing and a nuclear-capable missile warhead. The "alleged studies," as they have since been called, are dismissed by Iran as forgeries by hostile intelligence services.
6. Dialing back the estimate: 2006-09
2006: The drums of war beat faster after the New Yorker's Seymour Hersh quotes US sources saying that a strike on Iran is all but inevitable, and that there are plans to use tactical nuclear weapons against buried Iranian facilities.
2007: President Bush warns that a nuclear-armed Iran could lead to "World War III." Vice President Dick Cheney had previously warned of "serious consequences" if Iran did not give up its nuclear program.
2007: A month later, an unclassified National Intelligence Estimate (NIE) on Iran is released, which controversially judges with "high confidence" that Iran had given up its nuclear weapons effort in fall 2003.
The report, meant to codify the received wisdom of America's 16 spy agencies, turns decades of Washington assumptions upside down. Iranian President Mahmoud Ahmadinejad calls the report a "victory for the Iranian nation." An Iranian newspaper editor in Tehran tells the Monitor, "The conservatives … feel the chance of war against them is gone."
June 2008: Then-US Ambassador to the United Nations John Bolton predicts that Israel will attack Iran before January 2009, taking advantage of a window before the next US president came to office.
May 2009: US Senate Foreign Relations Committee reports states: "There is no sign that Iran's leaders have ordered up a bomb."
7. Israel's one-year timeframe disproved: 2010-11
Despite reports and intelligence assessments to the contrary, Israeli and many US officials continue to assume that Iran is determined to have nuclear weapons as soon as possible.
August 2010: An article by Jeffrey Goldberg in The Atlantic's September issue is published online, outlining a scenario in which Israel would chose to launch a unilateral strike against Iran with 100 aircraft, "because a nuclear Iran poses the gravest threat since Hitler to the physical survival of the Jewish people."
Drawing on interviews with "roughly 40 current and past Israeli decision makers about a military strike" and American and Arab officials, Mr. Goldberg predicts that Israel will launch a strike by July 2011. The story notes previous Israeli strikes on nuclear facilities in Iraq and Syria, and quotes Israeli Prime Minister Benjamin Netanyahu saying, "You don't want a messianic apocalyptic cult controlling atomic bombs. When the wide-eyed believer gets hold of the reins of power and the weapons of mass death, then the world should start worrying, and that's what is happening in Iran."
2010: US officials note that Iran's nuclear program has been slowed by four sets of UN Security Council sanctions and a host of US and EU measures. The Stuxnet computer virus also played havoc through 2011 with Iran's thousands of spinning centrifuges that enrich uranium.
January 2011: When Meir Dagan steps down as director of Israel's Mossad spy agency, he says that Iran would not be able to produce a nuclear weapon until 2015. "Israel should not hasten to attack Iran, doing so only when the sword is upon its neck," Mr. Dagan warned. Later he said that attacking Iran would be "a stupid idea…. The regional challenge that Israel would face would be impossible."
January 2011: A report by the Federation of American Scientists on Iran's uranium enrichment says there is "no question" that Tehran already has the technical capability to produce a "crude" nuclear device.
February 2011: National intelligence director James Clapper affirms in testimony before Congress that "Iran is keeping the option open to develop nuclear weapons in part by developing various nuclear capabilities and better position it to produce such weapons, should it choose to do so," Mr. Clapper said. "We do not know, however, if Iran will eventually decide to build nuclear weapons."
November 2011: The IAEA claims for the first time that Iran is has worked on weapons-related activities for years, publishing detailed information based on more than 1,000 pages of design information that is corroborated, it says, by data from 10 member states and its own investigation and interviews.
Israel's Prime Minister Benjamin Netanyahu repeating the lie to the United Nations last week about how close Iran is to building a nuke.
Source:
http://www.csmonitor.com/World/Middle-East/2011/1108/Imminent-Iran-nuclear-threat-A-timeline-of-warnings-since-1979/Earliest-warnings-1979-84
Dangerous Crossroads: The Threat of a Pre-emptive Nuclear War directed against Iran
By Prof Michel Chossudovsky
Global Research, March 26, 2013
For more than a decade, Iran has been doggedly accused without evidence of developing nuclear weapons. The Islamic Republic is relentlessly portrayed by the Western media as a threat to the security of Israel and of the Western World.
In a bitter irony, the assessment of America's Intelligence Community concerning Iran's alleged nuclear weapons capabilities refutes the barrage of media disinformation as well as the bellicose statements emanating from the White House. The 2007 National Intelligence Estimate (NIE): "judges with high confidence that in fall 2003, Tehran halted its nuclear weapons program." (2007 National Intelligence Estimate Iran: Nuclear Intentions and Capabilities; November 2007
Link
, See also Office of the Director of National Intelligence (ODNI)
Link
)
"We assess with moderate confidence Tehran had not restarted its nuclear weapons program as of mid-2007, but we do not know whether it currently intends to develop nuclear weapons.
- We continue to assess with moderate-to-high confidence that Iran does not currently have a nuclear weapon.
- Tehran's decision to halt its nuclear weapons program suggests it is less determined to develop nuclear weapons than we have been judging since 2005. Our assessment that the program probably was halted primarily in response to international pressure suggests Iran may be more vulnerable to influence on the issue than we judged previously." (2007 National Intelligence Estimate Iran: Nuclear Intentions and Capabilities; November 2007)
In February 2011, The Director of National Intelligence James R. Clapper (image right) – while presenting the 2011 National Intelligence Estimate (NIE) to the Senate Select Committee on Intelligence – intimated -with some hesitation – that the Islamic Republic was not seeking to develop nuclear weapons capabilities: "we do not know if Iran will eventually decide to build nuclear weapons."
The 2011 NIE largely confirms the findings undertaken by the US intelligence community in the 2007 NIE, which remains, according to The New York Times, "the consensus view of America's 16 intelligence agencies."
Post 9/11 pre-emptive nuclear war doctrine
First formulated in the Bush administration's 2002 'Nuclear Posture Review', the pre-emptive nuclear war doctrine -integrated into the Global War on Terrorism – started to take shape in the immediate wake of the war on Iraq. A pre-emptive'defensive' nuclear attack on Iran using tactical nuclear weapons was envisaged to annihilate the Islamic Republic's non-existent nuclear weapons program.
So-called 'mini nukes' were identified as the 'ideal weapon' to conduct a pre-emptive nuclear attack.
In 2003, the mini nukes, consisting of bunker-buster bombs with nuclear warheads, were re-categorized by the US Senate as bona fide conventional weapons. The new definition of a nuclear warhead has blurred the distinction between conventional and nuclear weapons.
Senator Edward Kennedy, at the time, accused the Bush Administration for having developed "a generation of more useable nuclear weapons."
Through a propaganda campaign which enlisted the support of'authoritative' nuclear scientists, the mini-nukes were upheld as an instrument of peace rather than war.
"Administration officials argue that low-yield nuclear weapons are needed as a credible deterrent against rogue states [Iran, North Korea]. Their logic is that existing nuclear weapons are too destructive to be used except in a full-scale nuclear war. Potential enemies realize this, thus they do not consider the threat of nuclear retaliation to be credible. However, low-yield nuclear weapons are less destructive, thus might conceivably be used. That would make them more effective as a deterrent."(Opponents Surprised By Elimination of Nuke Research Funds, Defense News, November 29, 2004)
In an utterly twisted piece of logic, nuclear weapons are presented as a means to building peace and preventing 'collateral damage'. The Pentagon had intimated, in this regard, that the mini-nukes are 'harmless to civilians' because the explosions 'take place underground'. Each of these mini-nukes, nonetheless, constitutes – in terms of explosion and potential radioactive fallout – a significant fraction of the atom bomb dropped on Hiroshima in 1945.
Estimates of yield for Nagasaki and Hiroshima indicate that they were respectively of 21,000 and 15,000 tons. Mini-nukes have a yield (explosive capacity) between one third and six times a Hiroshima bomb.
Following the 2003 Senate Green Light, which upheld mini nukes as 'humanitarian bombs', a major shift in nuclear weapons doctrine has unfolded. The low-yield nukes had been cleared for'battlefield use'. In contrast to the warning on a packet of cigarettes (see the proposed Food and Drug Administration label) the 'advisory' on the 'dangers of nuclear weapons to human health' is no longer included in military manuals. The latter have been revised. This 'new' generation of tactical nuclear weapons is considered 'safe'. The dangers of nuclear radiation are no longer acknowledged. There are no impediments or political obstacles to the use of low yield thermonuclear bombs.
The 'international community' has endorsed nuclear war in the name of World Peace.
Mini-nukes: Preferred weapons system of 'pre-emptive nuclear war'
While reports tend to depict the tactical B61 bombs as a relic of the Cold War era, the realities are otherwise: mini-nukes are the chosen weapons system under the doctrine of pre-emptive nuclear war, to be used in the conventional war theater against terrorists and 'state sponsors of terrorism', including the Islamic Republic of Iran.
Concrete plans to wage a pre-emptive nuclear attack on Iran have been on the Pentagon drawing board since 2004. A pre-emptive nuclear attack would consist in the deployment of B-61 tactical nuclear weapons directed against Iran. The attacks would be activated from military bases in Western Europe, Turkey and Israel.
In 2007, NATO confirmed its support for America's nuclear pre-emption doctrine in a report entitled 'Towards a Grand Strategy for an Uncertain World: Renewing Transatlantic Partnership'. The report (authored by former defense chiefs of staff of the US, UK, Germany, France and the Netherlands, and sponsored by the Dutch Noaber Foundation) calls for a pre-emptive 'first strike' use of nuclear weapons, against non-nuclear states as:
"the ultimate instrument of an asymmetric response – and at the same time the ultimate tool of escalation. Yet they are also more than an instrument, since they transform the nature of any conflict and widen its scope from the regional to the global. Regrettably, nuclear weapons – and with them the option of first use – are indispensable, since there is simply no realistic prospect of a nuclear-free world." (Ibid, p.96-97, emphasis added).
According to the authors, Iran constitutes a major strategic threat – not only to Israel, "which it has threatened to destroy, but also to the region as a whole." (Ibid, p.45) What is required is for the Atlantic Alliance to "restore deterrence through [military] escalation."
In this context, the Report, endorsed both by NATO and the Pentagon, contemplates the notion of:
"escalation dominance, the use of a full bag of both carrots and sticks—and indeed all instruments of soft and hard power, ranging from the diplomatic protest to nuclear weapons." (Report, p.96. emphasis added)
In December 2011, less than a year following the publication of the 2011 National Intelligence Estimate (NIE), which underscored that Iran does not have a nuclear weapons program, a'no options off the table' agenda directed against Iran was put forth by the Obama administration. What was envisaged was a planned and coordinated US-NATO Israel military posture with regard to Iran. It was understood, as intimated by former Defense Secretary Leon Panetta, that Israel would not act unilaterally against Iran. In the case of an attack on Iran, the green light would be granted by Washington.
"Any military operation against Iran by Israel must be coordinated with the United States and have its backing," said Panetta.
The various components of the military operation would be firmly under US Command, coordinated by the Pentagon and US Strategic Command Headquarters (USSTRATCOM) at the Offutt Air Force base in Nebraska.
Military actions by Israel would be carried out in close coordination with the Pentagon. The command structure of the operation is centralized and ultimately Washington decides if and when to launch the military operation.
In March 2013, the 'all options' resolution in relation to Iran was on the agenda during the president's official visit to Israel. While an integrated US-NATO-Israel approach in response to'the perils of a nuclear-armed Iran' war was reasserted, the tone of the discussions was in the direction of military action against Iran.
Obama's visit to Israel was preceded by high-level bilateral consultations, including the visit of IDF Chief of Staff Benny Gantz to Washington in February for discussions with the Chairman of the US Joint Chiefs of Staff General Martin Dempsey pertaining to Iran and Syria. Benny Gantz was accompanied by Maj. Gen. Aviv Kochavi, director of IDF Military Intelligence, at the meeting with his US counterparts. The new head of the Pentagon Chuck Hagel will be visiting Israel in April in a follow-up meeting.
"Tweeters pointed out that when Obama took his jacket off, Netanyahu promptly mimicked the president. Everything seems well coordinated."(Photo from twitter.com user @netanyahu)
In the course of Obama's visit, Prime Minister Netanyahu reiterated the need for "a clear and credible threat of military action [against Iran]," while intimating that Israel could act unilaterally. In this regard, it is worth noting that in August 2012, a few months prior to the US presidential elections, a leaked IDF briefing document (translated from Hebrew) revealed the details of Netanyahu's proposed "shock and awe attack" on Iran.
"The Israeli attack will open with a coordinated strike, including an unprecedented cyber-attack … A barrage of tens of ballistic missiles would be launched from Israel toward Iran … from Israeli submarines in the vicinity of the Persian Gulf. The missiles would be armed with … high-explosive ordnance equipped with reinforced tips designed specially to penetrate hardened targets. … A barrage of hundreds of cruise missiles will pound command and control systems, research and development facilities, … among the targets approved for attack— Shihab 3 and Sejil ballistic missile silos, storage tanks for chemical components of rocket fuel, industrial facilities for producing missile control systems, centrifuge production plants and more." (Quoted in Richard Silverstein, Netanyahu's Secret War Plan: Leaked Document Outlines Israel's 'Shock and Awe' Plan to Attack Iran, Tikun Olam and Global Research, August 16, 2012, emphasis added).
The strike details mentioned in the leaked IDF briefing above pertain solely to the use of conventional weapons systems.
------------------------------------------------------------------------------------------------------
First Strike" Pre-emptive Nuclear War directed against Iran. The Alliance's Nine Nuclear Weapons' States
In defining who are the main actors in the Iran pre-emptive nuclear warfare equation, the definition of "nuclear weapons states" (NWS) must be addressed. Thermo-nuclear weapons are deployed by the three "official" Nuclear Weapons States (NWS) of the Atlantic Alliance, namely the US, the UK and France. The official NWS status is established under the terms of the Nuclear Non-Proliferation Treaty (NPT).
Five other NATO member countries (categorized under the NPT as "non-nuclear states"), namely Belgium, Germany, the Netherlands, Italy and Turkey, possess an arsenal of B61 tactical nuclear warheads or "mini-nukes" (Made in America) which are deployed under national military command and are targeted at Iran. The B61 can be delivered by a variety of different aircraft.
Are these five countries in violation of the Nuclear Proliferation Treaty of which they are signatories?
Nine Nuclear Weapons Countries
In relation to ongoing war plans, the US-NATO-Israel military alliance includes a total of nine countries which possess a nuclear weapons arsenal:
The three official NWS: United States, United Kingdom, France
The five "Undeclared Nuclear States": Belgium, Germany, Netherlands, Italy and Turkey, categorized as "Non-Nuclear States".
Israel: "Undeclared Nuclear State".
With the exception of Israel, these countries are signatories of the NPT.
Pre-emptive Nuclear Warfare
While reports tend to depict the tactical B61 bombs as a relic of the Cold war era, the mini nukes are the preferred weapons system of pre-emptive nuclear war. Were an attack directed against Iran to be launched involving the deployment of B61 bunker buster nuclear bombs, these five countries, with Turkey and Italy in the forefront, would be playing a major strategic role.
B-2A bomber releases a test version of the new B61-11 gravity bomb over the Tonopah Test Range in Nevada, November 20, 1996 (left)
The involvement of these five "non nuclear states" as major actors in a US sponsored pre-emptive nuclear war raises the issue of definition and categorization of nuclear weapons states.
In the words of Time Magazine:
"Is Italy capable of delivering a thermonuclear strike?…
Could the Belgians and the Dutch drop hydrogen bombs on enemy targets?…
Germany's air force couldn't possibly be training to deliver bombs 13 times more powerful than the one that destroyed Hiroshima, could it?…
Nuclear bombs are stored on air-force bases in Italy, Belgium, Germany and the Netherlands — and planes from each of those countries are capable of delivering them." ("What to Do About Europe's Secret Nukes."Time Magazine, December 2, 2009)
The Time report is careful not to address the fundamental question.
A
r
e
Turkey and Italy nuclear weapons states? The B61s are described as a leftover from the Cold War.
The issue of post 9/11 pre-emptive warfare is not mentioned:
"These weapons are more than a historical oddity, says Time. They are a violation of the spirit of the Nuclear Non-Proliferation Treaty (NPT) … that provides a legal restraint to the nuclear ambitions of rogue states." (Ibid).
While Iran does not possess nuclear weapons capabilities as confirmed by the latest US National Intelligence Estimate (NIE), the nuclear weapons potential of these five countries –including delivery procedures– are formally acknowledged.
These five countries possess WMDs, yet they do not constitute –in the eyes of public opinion– a threat to global security. Moreover, at no time have these five countries been designated as "rogue states" or "undeclared nuclear weapons states".
US and NATO military documents attest to the fact that the B61 is the weapon of choice of pre-emptive nuclear war as opposed to the larger thermo-nuclear bombs of the Cold War era.
Moreover, were military action to be launched against Iran, these five countries would play a key role in the delivery of B61 bunker buster bombs with nuclear warheads.
The US had originally supplied some 480 B61 thermonuclear bombs to these five "non-nuclear states", as well as to the United Kingdom, which is categorized as a Nuclear Weapons State (NWS). (See map below)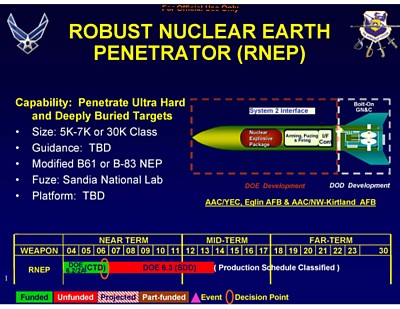 RNEP: The Follow-On To B61-11 (right),

Nuclear Information Project, The B61-11 The Birth of A Nuclear Bomb (image: right)
Casually disregarded by the Vienna based UN Nuclear Watchdog (IAEA), the US has actively contributed to the proliferation of nuclear weapons in Western Europe and Turkey. While, some of these bombs were decommissioned as a result of political pressures, particularly in Belgium and Germany, the US –in liaison with NATO– has launched a multibillion dollar modernisation program of its tactical nuclear weapons arsenal.
As part of this European stockpiling and deployment, Turkey, which is a partner of the US-led coalition against Iran along with Israel, possesses some 90 thermonuclear B61 bunker buster bombs at the Incirlik nuclear air base. (
National Resources Defense Council, Nuclear Weapons in Europe
, February 2005). This is all the more significant in view of the "reconciliation" and renewed bilateral military cooperation between Ankara and Tel Aviv in the wake of President Obama's March visit to Israel.
The stockpiling and deployment of tactical B61 (including the B61-11 earth penetrating warhead) in these five "non-nuclear states" are intended for targets in the Middle East. In accordance with "NATO strike plans", these thermonuclear B61 bunker buster bombs (stockpiled by the "non-nuclear states") could be launched against Iran, Syria and Russia:
The approximately 480 nuclear bombs in Europe [350 according to 2007 estimate] are intended for use in accordance with NATO nuclear strike plans, the report asserts, against targets in Russia or countries in the Middle East such as Iran and Syria.
The report shows for the first time how many U.S. nuclear bombs are earmarked for delivery by non-nuclear NATO countries. In times of war, under certain circumstances, up to 180 of the 480 nuclear bombs would be handed over to Belgium, Germany, Italy, the Netherlands and Turkey for delivery by their national air forces. No other nuclear power or military alliance has nuclear weapons earmarked for delivery by non-nuclear countries."
(quoted in Nuclear Information Project, Nuclear Weapons in Europe

. 2005. S

ee full report at National Resources Defense Council, Nuclear Weapons in Europe, New York, February 2005)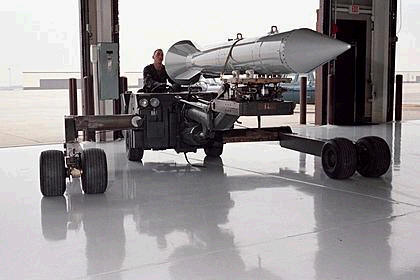 Nuclear Information Project, The B61-11 The Birth of A Nuclear Bomb
Does this mean that Iran or Russia, which are potential targets of a nuclear attack originating from one or other of these five so-called non-nuclear states should contemplate defensive pre-emptive nuclear attacks against Germany, Italy, Belgium, the Netherlands and Turkey? The answer is no, by any stretch of the imagination.
While these "undeclared nuclear states" casually accuse Tehran of developing nuclear weapons, without documentary evidence, they themselves have capabilities of delivering nuclear warheads, which are targeted at Iran. To say that this is a clear case of "double standards" by the IAEA and the "international community" is a understatement.
While political pressures have been exerted in recent years towards decommissioning the stockpile of tactical nuclear weapons, the arsenal of B61 bunker buster bombs with nuclear warheads remains fully operational. In the case of a conflict with Iran, mini nukes in the five non nuclear states would be actively deployed in liaison with NATO, which as fully endorsed the doctrine of nuclear pre-emption. According to the Pentagon:
… keeping these weapons in Europe is that they allow NATO members to participate in shaping alliance nuclear policy [i.e. pre-emptive nuclear doctrine]. In this view, transatlantic ties are strengthened when the risks and costs of deploying and securing nuclear weapons are shared between the US and the respective host nations. (Quoted in "Parting words: Gates and tactical nuclear weapons in Europe". Bulletin of Atomic Scientists, 14 July 2011)
Modernising the Mini-Nukes Arsenal
The decommissioning of the B61 nukes stockpiled in Western Europe and Turkey is a smokescreen. The European tactical nuclear weapons project is not being phased out as some reports have suggested. Quite the opposite. In 2010, the US National Nuclear Security Administration initiated a program "to refurbish and extend the life of the B61 bomb" at an initial estimated cost of 4 billion dollars (Ibid). By 2012, the mini nukes refurbishing program had skyrocketed to $10 billion.
(US Department of Defence, Case Independent Cost Assessment for B61 LEP,
Washington, July 13, 2012)
Described by the Federation of American Scientists, as "a gold plated nuclear bomb project", this initiative consists in modernizing the existing pre-emptive nuclear arsenal of B61 tactical nuclear weapons deployed in the five undeclared nuclear states. Moreover, a new version of the B61 bunker buster bomb is envisaged: the B61-12. The latter is to be developed for deployment in Western Europe and Turkey with the backing of NATO and the German government, (
Federation of American Scientists, November 2012).
The Obama administration and Congress have pushed the program forward despite the enormous cost … of refurbishing such complex weapons … Advocates, including the Obama administration, argue that the bomb is still essential to U.S. national security. In their view, t

he B61s deployed in Europe are the most concrete example of shared responsibility among the NATO countries,

providing the indispensable psychological glue that binds the often-fractious alliance…. The B61 provides a case study in the expense and innovations driving the ambitious effort to maintain the nation's nuclear defenses at a time of fiscal constraints and a shift away from reliance on nuclear deterrence. (

Washington Post, September 16, 2012 emphasis added)
Reports from Turkey confirm that the B61-12 is slated for delivery in 2019.
Germany: Nuclear Weapons Producer
Among the five "undeclared nuclear states", "Germany remains the most heavily nuclearized country with three nuclear bases (two of which are fully operational) and may store as many as 150 [B61 bunker buster ] bombs" (
National Resources Defense Council, Nuclear Weapons in Europe
. In accordance with "NATO strike plans", these tactical nuclear weapons are also targeted at the Middle East.
While Germany is not categorized officially as a nuclear weapons state, it produces nuclear warheads for the French Navy. It stockpiles tactical nuclear weapons (Made in America) and it has the capabilities of delivering nuclear weapons. Moreover,
The European Aeronautic Defense and Space Company – EADS
, a Franco-German-Spanish joint venture, controlled by the powerful Daimler Group is Europe's second largest military producer, supplying .France's M51 nuclear missile.
Germany imports and deploys tactical nuclear weapons from the US. EADS produces nuclear warheads which are exported to France. Yet Germany is classified as a non-nuclear state.
Dangerous Cross Roads
The tactical nuclear weapons deployed by the five non declared nuclear states are under national command and could be used in a pre-emptive US-NATO sponsored nuclear attack against Iran.
Tactical nuclear weapons are also deployed by Israel.
While i
t is unlikely that nuclear weapons would be used at the outset of an attack, they could be envisaged as part of a scenario of military escalation.
It is, therefore, important that public opinion in Western Europe, Turkey and Israel be made aware of the consequences of pre-emptive warfare and that political pressures be exerted on the governments of these 5 countries, with a view to blocking the deployment of the B61 nuclear warheads in their respective military bases as well withdrawing outright from ongoing US-NATO pre-emptive war plans directed against Iran.
Tactical nuclear weapons are in essence slated to be used against non-nuclear states in the middle East. Their use was contemplated in both the Iraq war in 2003 as well against Libya in 2011.
The focus on tactical nuclear weapons (mini-nukes) as part of the conventional war arsenal, does not mean that the the US and its allies have scrapped the idea of using their arsenal of larger strategic thermonuclear weapons. While the latter would not be used against a non-nuclear state in the Middle East, they are deployed and targeted against Russia, China and North Korea.
For those who believe that the use of thermonuclear nuclear weapons belongs to a bygone era, think twice.
Nuclear Weapons and the Economic Crisis
While the Pentagon's modernization budget for the pre-emptive nuclear option is a modest ten billion dollars (excluding the outlays by NATO countries). the budget for upgrading the US arsenal of "strategic nuclear offensive forces" is a staggering $352 billion over a ten year. (See Russell Rumbaugh and Nathan Cohn,
"

Resolving Ambiguity: Costing Nuclear Weapons,"
Stimson Center Report
, June 2012)
These multibillion military outlays allocated to develop "bigger and better nuclear bombs" are financed by the massive economic austerity measures currently applied in the US and in NATO countries.
The war economy is largely funded by compressing all categories of civilian government expenditure. In the US, these refurbished state of the art nuclear bombs are largely funded by the dramatic cuts in Medicare, Medicaid and Social Security.
Humanity is at a dangerous crossroads.
America is a "Killer State". The gamut of economic austerity measures impoverish the American people while generously funding the "Killer State" through multibillion contracts to Lockheed Martin, Northrop Grumman, Raytheon et al
War preparations to attack Iran are in "an advanced state of readiness". Hi tech weapons systems including nuclear warheads are fully deployed.
At the height of an Economic Depression, "War is Good for Business".
Escalation is part of the military agenda. While Iran, is the next target together with Syria and Lebanon, the US-NATO military agenda also threatens Russia, China and North Korea.
We call upon people across the land, in America, Western Europe, Israel, Turkey and around the world to rise up against this diabolical military project, against their governments which are supportive of military action against Iran, against the media which serves to camouflage the devastating implications of a war against Iran.
The Western media, the Washington Think Tanks, the scientists and politicians, in chorus, obfuscate the untold truth, namely that war using nuclear warheads threatens the future of humanity.
The real threat to global security emanates from the US-NATO-Israel alliance.
For further details on the dangers of Nuclear War, see the author's most recent book:
Towards a World War III Scenario:

The Dangers of Nuclear War, Global Research, Montreal, 2011
An earlier version of this article was published by RT Op-Edge
http://www.globalresearch.ca/latest-news-and-top-stories